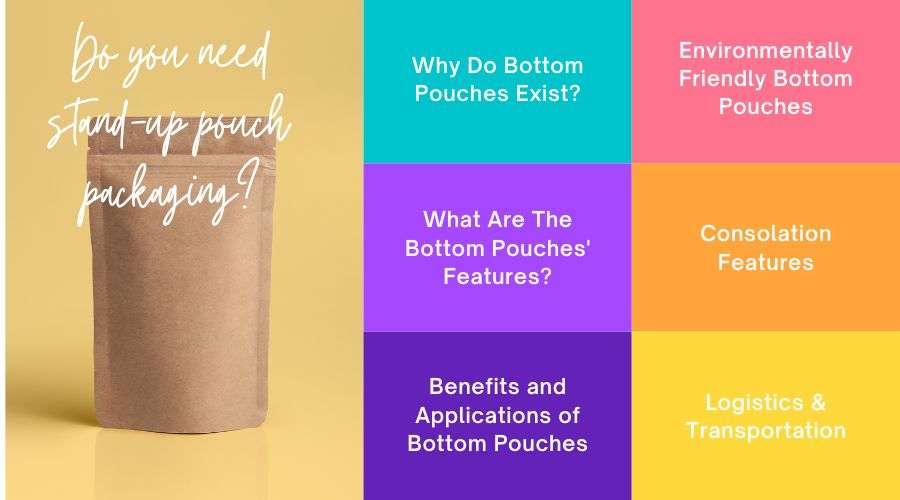 By The Most:
Jun 19,2023
Do you need stand-up pouch packaging?
Choosing to package your goods might be difficult since you can try many options and combinations to get the package you want. Due to their usefulness, stand-up pouches can reduce this operation's difficulty. They offer security for your objects, can be customized to express your business in many different ways, and are a more environmentally friendly packaging solution than other kinds. Everything you need to determine whether stand-up pouch flexible packaging is appropriate for you and how to utilize it has been detailed.
Why Do Bottom Pouches Exist?
The bottom pouch is a better version of the conventional vertical bag, often known as a flat bottom bag or a stand-up purse. Packaging often uses flat-bottom bags, particularly for food products. Tear notches, grip seal closure, and matte print finishing are optional choices. The properties and uses of bottom pouches are covered in this blog. Customers choose bottom bags for their upscale atmosphere, show-class look, and excellent audio experience. Since the bottom pockets are flat, they may stand upright on shelves or other surfaces. Bottom pockets are pretty handy.
Why Do Bottom Pouches Exist?
Gussets, which are triangular brackets or inserts for expansion or greater strength on the left and right sides and at the bottom, are present in the bottom pouches. These gussets provide aesthetic appeal to bottom bags and support the pouch's structure and design, enabling it to stand upright and better meet the packaging needs of many industries. They have three coatings to help safeguard the contents. The fact that these coatings are recyclable proves how environmentally friendly they are. Additionally, it has a distinctive design that enables it to present clients with an attractive shape; this particular kind offers a sizable storage area and adequate room to employ the space in the back and front and add your design.
Benefits and Applications of Bottom Pouches
Products like chocolates, cookies, spices, cereals, animal food, and organic goods may be packaged using bottom pouches, which can be acquired from a reliable bottom pouch distributor. Corrugated boxes and folding cartons can be replaced with bottom bags, which are more upscale. Bottom bags have less environmental impact and guarantee that the contents keep fresher for longer than a huge box with an ineffectual inside lining. Snacks, crackers, granola, and cereal are all handled in bottom pouches, which generally manage everything placed in a box with an inside bag. The bag can stand independently because of the flat bottom resembling a box, and the side gussets offer more space for branding and labeling than standard stand-up bags.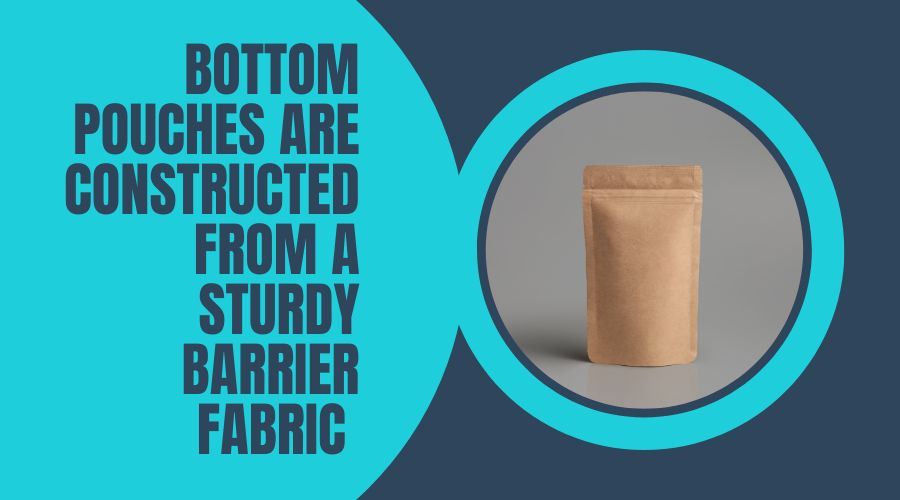 Additionally, bottom pouches are constructed from a sturdy barrier fabric that shields the bags' contents from dangers such as abrasion, odor, moisture, contaminants, and other hazards. Because of this, the food is guaranteed to remain fresher for longer, even after being opened (contrary to those useless liners). The most excellent part about bottom pouches is that they use 15% less film than standard stand-up ones while carrying a higher capacity. The five printing spaces on each bottom bag make them ideal for branding.
They come in foil, metalized, and transparent forms; the bottom pouch firm produces them in various colors. Bottom pouches are finished with usable zipper tops, guaranteeing that customers can efficiently utilize their preferred products repeatedly. The newest method of packaging is bottomed pouches. High-end food packaging companies are increasingly using this pouch to package their products. Printing bottom bags on Kraft or white poster paper allows for more customization.
Environmentally Friendly Bottom Pouches
Stand-up pouches are better for the environment. In general, flexible packaging uses fewer resources, less energy, and less water, which produces fewer volatile organic compounds. Aside from the financial benefits, their reduced size and lighter weight reduce transportation-related fuel emissions. Rigid materials take up more space in landfills than non-recyclable materials. Stand-up pouches can be recycled or biodegradable without compromising on quality or safety.
Consolation Features
Stand-up pouch features may increase the value of your brand since consumers love convenience. Resealable closures help prolong the shelf life of food while enhancing your clients' buying experience. To make it more practical, you may add press-to-close, zip lock, or hook-to-hook closures to your bag. Additionally, clear glass, knobs, and spouts could be included. Customers may cook their meals in the microwave without removing them from the pack by steaming stand-up pouches.
Logistics & Transportation
Additionally, stand-up pouches significantly lower the cost of distribution. Depending on the bag and the original packaging method, you may fit five to ten times the units on a single truck using fewer pallets. The packaging is lighter, which lowers the cost of gasoline per truck. More of your possessions may be stored in a smaller space, and moving them around requires less time and work.
Form and Structure
Stand-up pouches usually come in many different shapes and sizes. Customers are accustomed to the everyday purse, a flat-folding, round-bottomed gusset bag. There are numerous options, K-sealed, including box pouches, quad-sealed (two side gussets and four vertical seals), and others. To make them stand out on the shelf, stand-up pouches may be carved into customized shapes by Bottom Pouch providers.
Graphics
Flexographic printing is the most versatile printing technique for flexible packaging, which can create stunning HD graphics for your stand-up pouch. Flexographic printing offers the strongest lay-down and most accurate ink control on various films. When stand-up pouches are used with this contemporary printing technique, your goods may have the best, most striking graphics available.
Shelf Effects
Stand-up pouches are easily noticeable on the shelf because of their numerous forms and sizes and brilliant HD graphic options. One of the significant benefits of stand-up pouches, specifically shelf impact, is only the total of space manufacturers now have to work with—the package's most noticeable printing area stands up and faces the buyer. This gives your products an advantage over lay-flat bags and other compact, rigid containers.